Keith Pressure Washing: East Ridge's Premier In Pressure Washing Services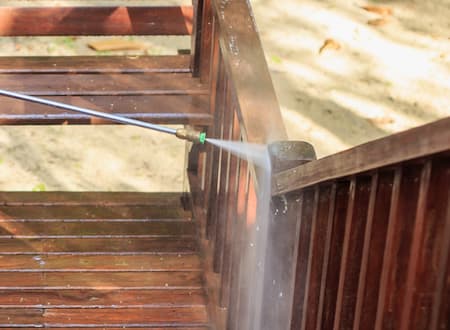 Keith Pressure Washing is the top-rated pressure washing company in East Ridge. Our experts are trained in both pressure washing and soft washing techniques to ensure you're getting the best service possible, no matter the project.
If you're looking for residential pressure washing, we offer multiple options to make sure your project gets done the right way. We offer:
Concrete Cleaning
Gutter Cleaning
We also offer residential window cleaning for your home. If you're looking for residential soft washing services, we offer house washing and roof cleaning. Our soft washing is the best option for your siding and shingles, the process gentler than other options. We also offer commercial pressure washing in East Ridge. Our experts can help with your:
Commercial Concrete Cleaning
Building Washing
Commercial Roof Cleaning
If you're looking for commercial pressure washing, Keith Pressure Washing is here to ensure your building looks like new. To set up an appointment with the premier pressure washing professionals in East Ridge, call Keith Pressure Washing today at 423-413-0403 or complete our online request form
Why You Need Professional Deck Cleaning for your East Ridge Deck
Your deck is the focal point of your outdoor living space in East Ridge. Because your deck is outside, it's constantly exposed to the elements. As the seasons change, dirt and debris build-up, which leads to your deck looking shabby and gross.
Keith Pressure Washing understands that build-up can affect your interest in outdoor activities. That's why we offer professional deck cleaning for your East Ridge deck to ensure you're getting the most out of your outdoor living space no matter the season.
Our technicians individually assess each deck cleaning project to ensure your deck is getting the best cleaning possible without any unforeseen damages. We clean away, dirt, grime, mold, mildew, and bacteria to ensure your deck isn't just clean, but healthy too.
Seasonal pressure washing for your deck doesn't just clean your deck, it helps to maintain it, so your deck lasts longer. Our technicians will report any damages we notice in the structure of your deck to ensure you can get those areas fixed before they become a larger problem.
By setting up an appointment with the professionals at Keith Pressure Washing, you aren't just getting a clean deck. You're getting a full analysis of your deck's structure to ensure it's in the best shape possible all year round.
To set up an appointment with the East Ridge pressure washing experts for your seasonal deck cleaning, call us today.
Reviews & Testimonials on Keith Pressure Washing in East Ridge, TN
There are currently no reviews or testimonials, check back soon!
Contact Us
If You Are Looking For The Best Pressure Washing Company In The Chattanooga Area, Then Call Us Today For Your Free Estimate!