Soddy Daisy's Leader in Pressure Washing Services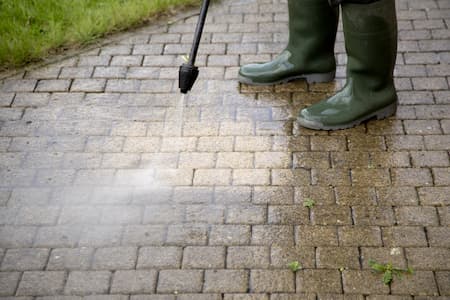 Keith Pressure Washing is Soddy Daisy's premiere pressure washing service. Our experts are trained to help with all your residential and commercial pressure washing needs throughout Soddy Daisy.
Whether you're looking for a concrete cleaning or a house washing, we can help. Our experts are trained to assess each pressure washing project individually to ensure you're getting the best service possible. Our technicians are also trained in soft washing for our house washing and roof cleaning services to ensure your home is getting the best clean without any damages.
If you're looking for commercial pressure washing, we can help with that too. We offer:
Building Washing
Commercial Roof Cleaning
Your Soddy Daisy commercial property will never look better than it does right after a professional pressure washing. To set up an appointment with the Soddy Daisy pressure washing experts, call Keith Pressure Washing today at 423-413-0403 or complete our online request form.
Why Clean Your Soddy Daisy Commercial Concrete
Your concrete may seem like the strongest material you've used on your commercial property. However, concrete is a very porous material, which means that dirt and contaminants can seep into these pores and break away at your concrete.
Small particles of dirt, automotive stains, caustic liquids, and water can all seep into these pores and cause costly damages. Because these pores are so small, it's hard to clean away contaminants when they find their way into your concrete.
A professional pressure washing is the best way to clean away all the small contaminants that can get into your concrete. Because pressure washing utilizes water as the main cleaning ingredient, it can get into all the small pores on your concrete and clean away any contaminants.
Pressure washing is a great way to push small rocks and dirt out of the pores of your concrete. It's also the best way to ensure automotive stains and caustic liquids are washed out of your concrete before it causes breakage or cracking.
If you already have breakage or cracking in your concrete, pressure washing is still a great way to maintain your concrete. Using pressure washing as a maintenance option can increase the lifespan of your concrete and push off repairs for years. Because the water can get into the smallest areas of your concrete, pressure washing can get smaller contaminants like liquids and seeds out of your concrete before they have a chance to expand the cracks.
To set up an appointment to get a professional pressure washing for your Soddy Daisy commercial concrete, call the experts at Keith Pressure Washing today.
Reviews & Testimonials on Keith Pressure Washing in Soddy Daisy, TN
There are currently no reviews or testimonials, check back soon!
Contact Us
If You Are Looking For The Best Pressure Washing Company In The Chattanooga Area, Then Call Us Today For Your Free Estimate!