Keith Pressure Washing: Fort Oglethorpe's Premier In Pressure Washing Services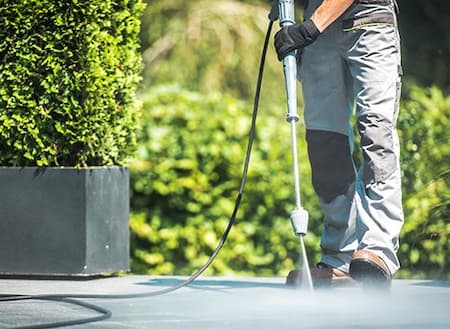 Keith Pressure Washing offers premier pressure washing throughout the Fort Oglethorpe area. If you're looking for pressure washing or soft washing services for your residential or commercial property, we are here to help.
Our technicians are trained to assess each project individually to ensure you're getting the best service in Fort Oglethorpe. We provide a number of residential pressure washing services, such as:
Deck & Fence Cleaning
Concrete Cleaning
We also offer window washing and soft washing for house washing and roof cleaning. No matter the outdoor cleaning project, we can help. If you're looking for commercial pressure washing, we also provide:
Building Washing
Commercial Concrete Cleaning
Commercial Roof Cleaning
We want to make sure that all your properties are getting the best pressure washing in Fort Oglethorpe. To set up an appointment with the premier pressure washing experts in Fort Oglethorpe, call Keith Pressure Washing today at 423-413-0403 or complete our online request form today
Cleaning Your Fort Oglethorpe Gutters
Your gutter system is an important part of your Fort Oglethorpe home. Gutters are meant to collect runoff from rain and melting snow to move the water away from the foundation of your home. The gutter spouts funnel the runoff into your lawn to ensure it doesn't spill into your foundations.
To correctly maintain your home's gutter system, you need to invest in seasonal gutter cleaning to get all of the dirt and debris out of your gutter system. If you don't, your gutters clog. And, when runoff can't get to the spouts, the water overflows out of your gutters and ends up soaking into the foundation of your home.
Water getting into the foundations near your home doesn't just weaken your foundation. It can soak into the structure of your home and cause mold and mildew to grow.
To protect against costly damages to your home, engage in a seasonal gutter cleaning with a Fort Oglethorpe expert pressure washing service. Not only does Keith Pressure Washing clean out your gutter system to ensure the runoff in your system can successfully travel through the spouts, but we also clean the outside of your gutter system thoroughly.
Cleaning the outside of your gutter system is just as important as cleaning the inside. Contaminants make their home on the outside of your gutter system and, if left unchecked, can cause just as much damage as clogging. Rusting can lead to holes in your system, which will result in water landing in your foundations even if the spouts are completely intact.
To set up a professional gutter cleaning with a local Fort Oglethorpe pressure washing company, call Keith Pressure Washing today.
Reviews & Testimonials on Keith Pressure Washing in Fort Oglethorpe, GA
There are currently no reviews or testimonials, check back soon!
Contact Us
If You Are Looking For The Best Pressure Washing Company In The Chattanooga Area, Then Call Us Today For Your Free Estimate!