Your Local Pressure Washing Company in Hixson, TN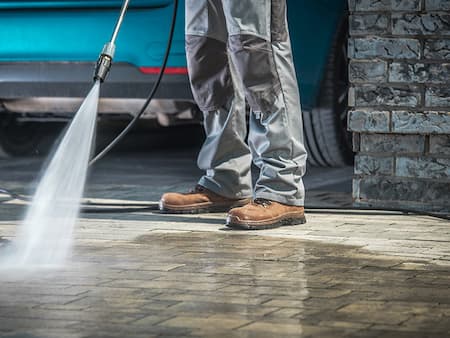 Are you looking for premier pressure washing in Hixson for your residential or commercial property? Keith Pressure Washing is here to ensure you're getting the best pressure washing in all of Hixson.
Our pressure washing experts are trained to help with both residential and commercial pressure washing projects so we can get you the best service possible. Whether you're looking for a commercial building washing or a residential house washing, we can help.
We also train our technicians in quality soft washing, a gentler way to clean your Hixson home and roof. We want to make sure your buildings are taken care of, no matter the project. To learn more about how we can help you with your Hixson pressure washing project, call Keith Pressure Washing today at 423-413-0403 or complete our online request form to learn more.
Why You Need Building Washing For Your Hixson Commercial Property
Routine building washing is a great way to clean and maintain your commercial properties. Not only does a building washing with Keith Pressure Washing clean away years of dirt and grime on your Hixson property, but it also adds years to the life of your building.
Moss, mildew, and bacteria build up on your building over time. Left to spread, these contaminants break away at your building's surface. This can result in paint chipping, cracking, molding, and breakage along your building. Contaminants can break away at the face of your building, which makes it look shabby and unprofessional.
With a professional building washing from Keith Pressure Washing, the contaminants on your building will be washed away, protecting the face of your building from breakage and other ill effects. Keeping your building fresh and clean is a great way to draw in new customers and clients.
Customers and clients see the face of your building first. If your building looks shabby, they will question the contents of your company. If they see an inviting, clean face, they will have more faith in your business. By increasing the curb appeal of your building, you're investing in your customers and showing that you care about their impression of you.
First impressions are important when it comes to new customers and clients too. By keeping your building in great shape with routine building washing from a noted professional in Hixson, you're helping to attract the attention of new customers and clients. People tend to remember clean, welcoming businesses even if they're just passing by. By investing in building washing services, you can increase interest in your business.
To draw in new customers and keep your existing customers satisfied, call the Hixson area pressure washing experts at Keith Pressure Washing today to set up a building washing appointment.
Reviews & Testimonials on Keith Pressure Washing in Hixson, TN
There are currently no reviews or testimonials, check back soon!
Contact Us
If You Are Looking For The Best Pressure Washing Company In The Chattanooga Area, Then Call Us Today For Your Free Estimate!