Chattanooga Solar Panel Cleaning Specialists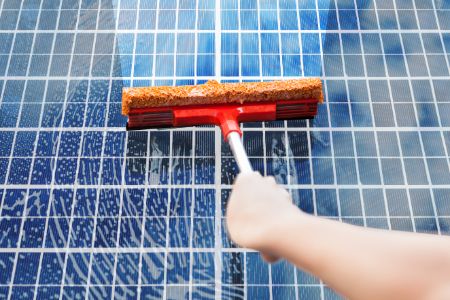 Solar panels are a great way to offset the high cost of energy for your Chattanooga property, and routine solar panel cleaning will ensure that your solar panels are operating at maximum efficiency. The solar panel cleaning experts at Keith Pressure Washing use environmentally friendly cleaning products and industry-proven soft washing techniques to safely eliminate organic growth, environmental debris, and other pollutants from your solar panel surfaces to create an optimum collection surface and a sparkling freshness!
Keith Pressure Washing is the local exterior cleaning expert providing top-quality pressure washing for Chattanooga and the surrounding areas, and we'd love to add you to our list of satisfied customers. If you need solar panel washing or other exterior cleaning services for your property in the Chattanooga area, call us at [ Malformed 'which' value in phoneNumber shortcode. ] or use our easy online form to schedule a free estimate today!
PV Panel Washing
The tiny photovoltaic (PV) cells in your solar panels capture the energy of the sun and convert it to electricity for your home, but keeping your PV panels clean and free from debris can present a challenge. That's why routine PV panel washing is so important to maintaining the efficiency of your solar energy system. Our skilled solar panel cleaning experts can safely and gently remove the toughest contaminants from your PV panels without causing damage to keep your solar panels functioning at peak performance.
Soft Washing Gently Cleans Your Chattanooga Property's Exterior Surfaces
The pressure washing pros at Keith Pressure Washing know that sometimes, too much pressure is too much for your Chattanooga surfaces, which is why we use our industry-proven soft washing application for safe and effective solar panel cleaning, roof cleaning, house washing, and more!
Our exterior cleaning professionals will evaluate your surfaces and choose the right cleaning techniques and processes to eliminate the organic growth, dirty accumulations, and grimy pollutants that can give your Tulsa property's exterior surfaces a dull and lifeless appearance. The pressure washing specialists at Keith Pressure Washing will come to the rescue and revive your curb appeal with services that include:
Roof cleaning
Gutter cleaning
House washing and building washng
Solar panel cleaning
Fence and deck washing
Concrete cleaning
Keith Pressure Washing also offers standard pressure washing services for your home, business, or commercial property as well - including sidewalk cleaning, parking lot washing, and other concrete cleaning services. Our skilled specialists will evaluate your exterior surfaces and choose the right pressure washing or soft washing application to meet your needs.
Please call us today at [ Malformed 'which' value in phoneNumber shortcode. ] to schedule residential or commercial pressure washing services for your property in the Chattanooga area, or use our easy online form to request a free estimate.
Contact Us
If You Are Looking For The Best Pressure Washing Company In The Chattanooga Area, Then Call Us Today For Your Free Estimate!